Author: Iwo Borkowicz 
Snow Guarantee, Bad Gastein 2021
Weather station, gilded steel.

Gilding consultants: Krzysztof Owsiany, Jolanta Wejnert.
Weather station sensor and data sharing consultants: Patryk Wejnert, Rafał Całka
Steelworks: Ferwor
Production support: Sonia Borkowicz, Pola Machinska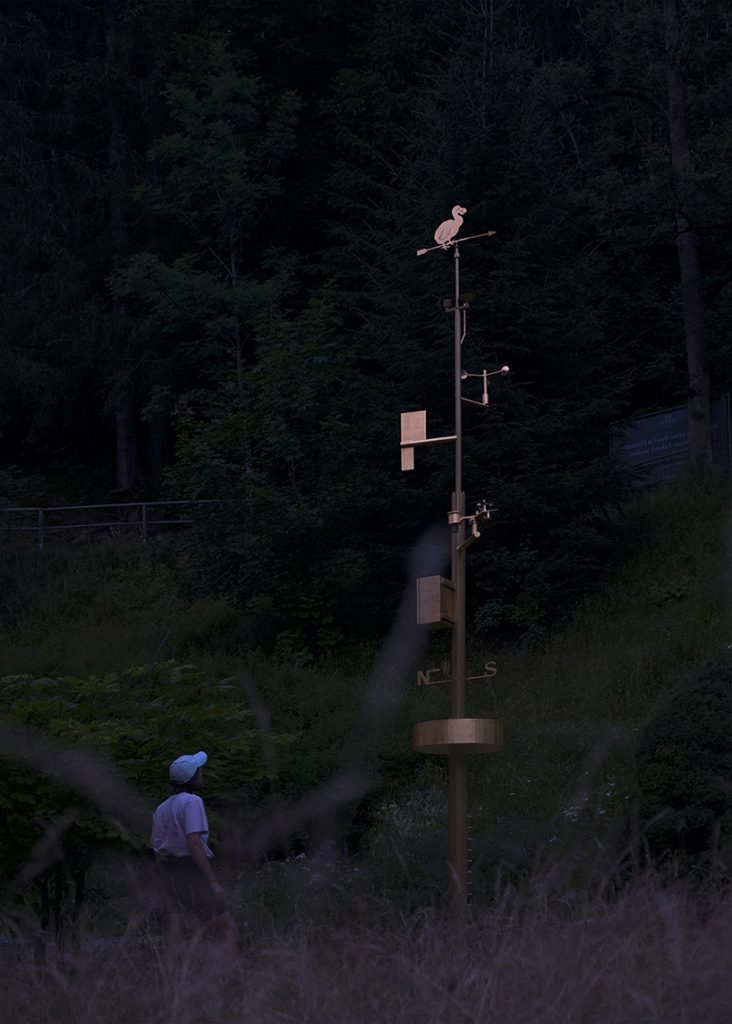 Only important things are golden.
It's for us to say what is important.
"Snow Guarantee" is a seven meter tall, functioning, weather station, covered in 23 carat gold, situated within the Alpine mountains of Austria. It's hard to rewrite our relation to climate. How can we learn to look at weather as a fragile, dangerously powerful, and the most valuable asset? Through the ages foreseeing weather was considered magical and granted power. Before rapid technical progress men were humbled by the elements. This fear is coming back, driven by the climate crisis. For the first time in human history we commonly understand how influential on the climate our actions are. Lost stability of the climate will be our biggest regret and its re-stabilization the biggest ambition.
The Alpine town of Bad Gastein built its wealth and importance on gold mining. When gold deposits ran out the city emptied and many buildings fell into disrepair. Now, years later with popularisation of winter sports and proximity to the all year round skiing on the slopes of Mölltaler Glacier, Bad Gastein is regaining its popularity. Through a long history of human civilization, and to this day gold is synonymous with value. Domes of temples, crowns, wedding jewelry, awards and important statues are covered in gold in numerous cultures around the world. Gold is associated with the wisdom of aging and fruition. The fiftieth wedding anniversary is golden. A person's most valued or most successful years are considered "golden years". The height of a civilization is referred to as a golden age.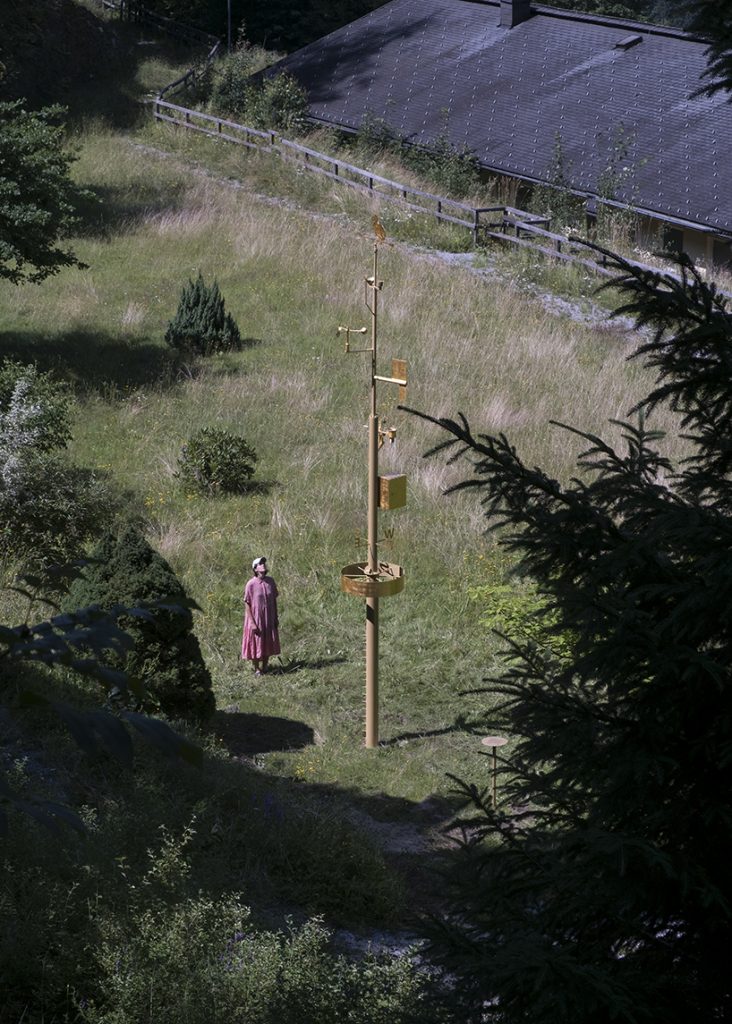 For many decades now, across the Alps meteorological stations have recorded a declining amount of snowy days. Year by year Alpine glaciers become less stable and simply melt. To combat this trend snow is being stored, produced, and cared for. Glaciers are being wrapped in insulation blankets to slow down their demise. Once all year round Mölltaler Glacier is closed for visits during summers since 2018 due to the rapid melting. Private and public companies offer special services, so called "snow guarantees". Regional ecosystems are changing, economies relying on winter sport and recreation are fighting a losing battle. Snow, a resource witch's abundance no one questioned before is simply becoming a luxurious commodity. Bad Gastein once again is running out of its core resource – snow, the new gold.
Sculpture is an actual, working weather station. It's connected to a network of over 250 000 weather stations all around the globe, supplying data to an open-source meteorological database, helping us and scientists understand the climate better. Moreover one can go to www.snowguarantee.eu where
sculpture streams the weather data live. Sculpture consists of meteorological sensors and symbolic elements. It is equipped with sensors that track wind speed and direction, UV radiation, LUX levels, temperature, rainfall, humidity and air pressure. On its top sits a weather vane shaped like a dodo. A bird famously driven to extinction by humans. Here replacing the more commonly used rooster, a species of bird most famously farmed and eaten by humans. Wind rose is represented with letters extracted from logotypes of entities infamously ignorant about climate crisis like "N" from Nestle for north, "W" from Walmart for west, "E" from ExonMobile for east and "S" from PiS (Polish ruling political party) for south. However one may also find positive symbols, like a tribute to human motivation and resilience in addressing the climate crisis in the form of a 1:1 replica of a wind sensor installed by alpinists and scientists on Mount Everest in 2020.
"Snow Guarantee" was commissioned by and is a part of the Comodo art collection.