Projekt: jeju.studio / Iwo Borkowicz  + Plastplan / Bjorn Steinar
Wykonawstwo meble: Plastplan
Zdjęcia: Bjorn Steinar
Höfuðstöðin (e. Headspace) is an art and culture destination that houses Shoplifter / Hrafnhildur Arnardóttir's monumental installation Chromo Sapiens. Shoplifter is one of Iceland's leading contemporary artists. The installation debuted in the Icelandic Pavilion at the Venice Biennale 2019.
Design and plastic recycling studio Plastplan partnered with Architect Iwo Borkowicz on redesigning the interior of historical barracks built during the second world war in suburban Reykjavik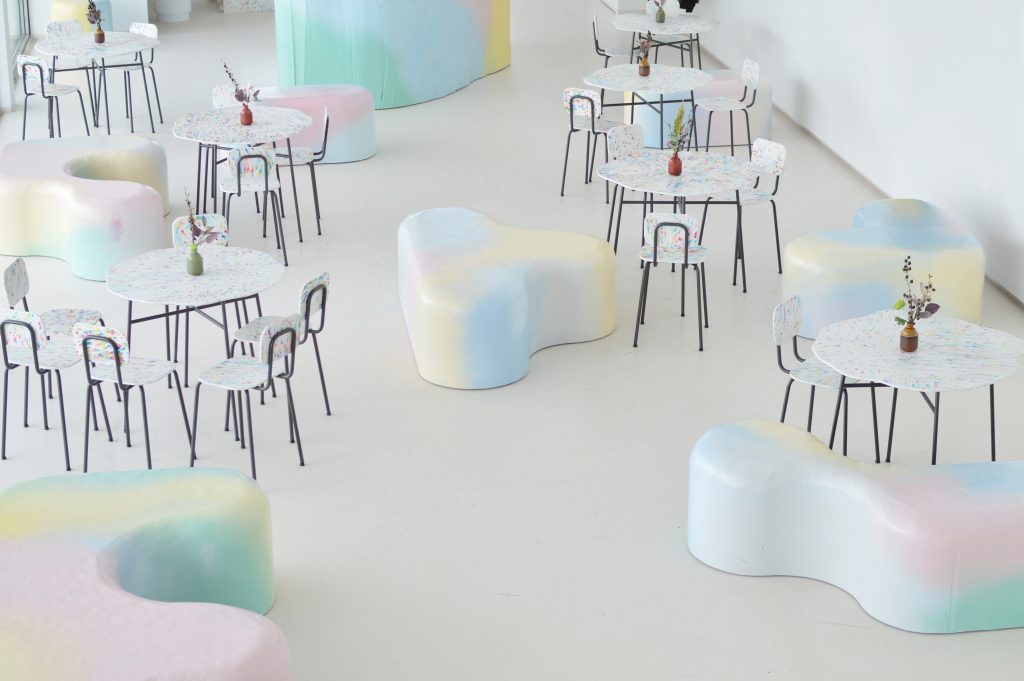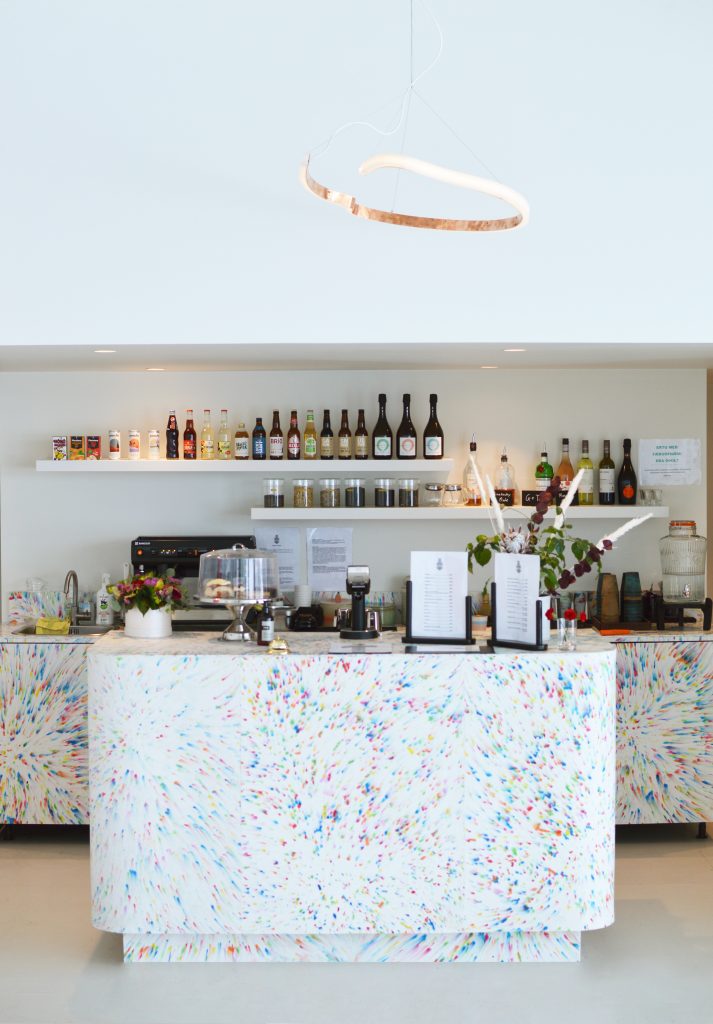 Bold forms and textures in the design of the space echo the playfulness of Shoplifter's artwork in the adjacent gallery. For full functionality of a cafe / artspace, the large lounge elements can be rearranged like puzzles, grouped or placed individually to transform the interior. The space can host anything from concerts, workshops, cat walks, exhibitions to private events.
Handmade meets high tech in the multi purpose space.
Focusing on responsible interior design the duo sourced and recycled local plastic waste to create the experimental infrastructure and furniture, recycling 1.520 kg of plastic waste in the process. Hand carved and painted – rubber coated – expanded polystyrene blocks make up big lounge elements and the giftshop table. Chairs and tables are cnc'd from specially produced sheets of recycled plastic. Even the lights are manufactured with a custom made industrial 3-D printer, fed with plastic waste pellets.
Shoplifter's installations engage and speak to a wide range of audiences from art enthusiasts to people of all ages. The cafe and lounge is an oasis, a bright yet playful space to cleanse one's visual pallet. Here you can enjoy culture, coffee and a beautiful view of the surrounding natural landscape. It is a place to meet up before or after an outing in the labyrinth of paths through the forest and riverbanks of the valley of Elliðaárdalur as well as Chromo Sapiens itself.